Nothing Has Changed
June 24th, 2017 | Posted in Uncategorized
Back in March, to mark the triggering of Article 50 (and before Theresa May called the snap General Election), I wrote a piece for the Telegraph. In it I argued that those who could help ensure the UK gets the best deal from the Brexit negotiations needed to stop criticising everyone who voted to Leave. Instead they should 'build a bridge' in order to be heard. You can read my article behind the Telegraph paywall by clicking here. (But as it's now 3 months' old, I think it's safe for me to provide the full text at the end of this post for non-Telegraph subscribers.)
Once Theresa May announced the General Election, and before the Conservative Party Manifesto was published, I wrote a piece for ConHome outlining how I thought voters would approach this election. I argued that, because Brexit to 'ordinary voters' was less about Europe and more a vehicle for changing the imbalanced and unfair way "the system" works in our country, the basic question voters would ask themselves before putting a cross in the box would be: whose side are you on? In other words, who will deliver the change they want to see happen. To read that piece, click here.

After the Conservative Party's manifesto was published and all hell broke loose about social care, I wrote another piece for ConHome explaining why that policy made such a negative impact on the polls: in short, because it did not fit with the agenda for change of those voters most likely to vote Tory; especially new Tory voters. You can read that piece here.
Finally, I wrote a long essay for CapX after the General Election about the chasm between ordinary voters and everyone else in positions of power which Brexit exposed and the General Election did nothing to close. The central point of the essay – as indeed the three other pieces – is that the most important thing we powerful and influential people must recognise is our role in causing the divide and our collective responsibility for closing it. That essay is here.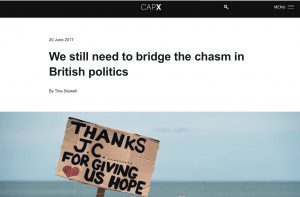 To coin a phrase (which was the most damaging in more ways than one to Theresa May during the election campaign), "nothing has changed". The divide between us remains as large and as deep as before. And that is the problem that everyone who enjoys some power or influence needs urgently to do something about.
Telegraph Article published 29th March 2017