The Educational Divide
June 29th, 2017 | Posted in Uncategorized
This is the transcript of my speech in the Queen's Speech debate on Thursday 30th June 2017.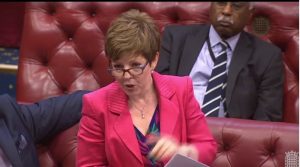 "My Lords, it is always a privilege to speak in your Lordships' House. Today, I want to discuss one of the big social divides exposed by Brexit and all the other major political events of the past year. That is in education. In the EU referendum, the difference between the way in which graduates voted and non-graduates voted was stark, with nearly two-thirds of postgraduates and four in five of those still in full-time education voting to remain and 64% of those whose formal education had ended at secondary school voting to leave.
I feel that we are a long way off understanding this. Notwithstanding what has been said by some noble Lords in the debate today, we might also be looking in the wrong place. There are no data on how many of your Lordships are educated to degree level, but I do not think that I would be far off if I guessed that a good number, or the majority, of Peers were graduates. I think that that is the case among most people in leadership positions in all walks of life—that is good; we want people in positions of power to be well educated and to know what they are talking about.
However, that means there is a lack of diversity at the top when it comes to understanding this big social divide. Perception of people who are not educated is sometimes a little warped. When Brexit and the referendum are debated, it is not uncommon to hear it said that the so-called uneducated were "duped". Although it is sometimes whispered, the word "stupid" is used about people who voted to leave. When the presidential elections in the US are talked about, it is often said very loudly that President Trump is stupid. Obviously, when you get to become a President, you should be big enough and ugly enough to take any kind of insult, but we have always to bear in mind that if you dis someone like the President, whoever they may be, in hostile terms, you are effectively dissing the people who supported and voted for that person.
I should declare at this point that I did not go to university. I was the Leader of this House—some of your Lordships may say that you could tell that I did not go to university when I was in that role. It is important for me to share that fact. One of the worst feelings for any human being is that of being misunderstood. One of the worst things for any human being to do to another is not to take them seriously. When I was Leader of this House, I used to make it my business to make sure that I and the rest of my ministerial team took your Lordships' House seriously and that we represented this House back into government. We need to remember that that sort of thing is important to us in powerful positions, those of us who are highly educated, and so it is equally important to those who are not.
Often, when we talk about those who are uneducated when we think about these big political events, we use phrases such as "left behind"—the noble Baroness, Lady Sherlock, did so earlier today. She painted some parts of the picture but I do not think she painted a full picture, because I think we are in danger of thinking that people who are not educated to degree standard are all failures, and that is just not true. Many people who are not educated to degree level will have set up and run their own business, they will be skilled tradesmen and tradeswomen, they might do important jobs, managing other people, and they have things to contribute to society—and they do. A better way of thinking about them is as being cut off and left out, sometimes. They are not left behind; they are right here, right now. What is happening is that the educated side of the divide have decided that everything is so complicated that only the educated people can come up with the answers, and this has been going on for a long time. That is okay if the answers that the educated people come up with are right. However, it seems now that they are not, so that is where we have a bit of a problem.
Let me take the House back to 2010 and remind noble Lords of the incident between Gordon Brown and Mrs Duffy. The reason I highlight that is not to rehearse again what he said about Mrs Duffy but to point out how Mrs Duffy responded when told what the then Prime Minister had said about her. She had all these journalists gathered around her and she said: "I'm very upset. He is an educated person. Why has he come out with words like that?". The point is that someone like Mrs Duffy—I have no idea how far she went in her education—feels that, if those who are educated do not understand them, then who the hell will? That is what we need to think about. I know we talk about a better education system and of course that should always be part of the solution; of course, truth is a good thing and I know that we sometimes like to point to different things in different campaigns as being outrageous and misleading, but we need to reflect the fact that the people who need educating right now are not necessarily those that we think of as uneducated but those of us who are very well educated and in positions of power.
There is much more I could say but I have run out of my time, so I have to conclude. But I want to leave noble Lords with one thought about how we proceed over the next few months in our various debates, particularly about the European Union. The biggest thing that motivated how people voted at the general election a couple of weeks ago was other people's motives. They were looking at the different parties and party leaders and judging their motives. That is why, when we were discussing the Article 50 Bill, I was vocal in those debates about the way we were trying to engage in that very important topic—not that we should not engage in that topic but that we needed to be clear in our own mind that other people are looking at our motives in judging what it is that we say and do and how we are contributing to these very important matters. Whether it is debates about the single market, the customs union or whatever, we have to remember that, for a vast majority of people, the reason they voted to leave the European Union was because they wanted things to change. We need to remember, when we talk about the pros and cons of the ways forward, that as a result of all of this things should be different at the end of this process for those who felt so angry and fed up that they forced this disruption upon our country."
If you feel moved to watch me deliver the speech, you can do so via this link.